ST. PATRICK'S CATHEDRAL 🇺🇸 🇫🇷 🇪🇸 🇮🇹 🇧🇷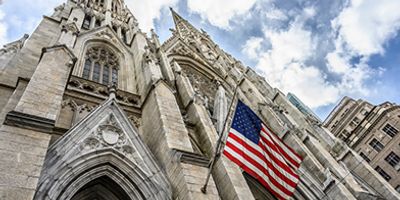 Touring St. Patrick's Cathedral
The Official Tour of St. Patrick's Cathedral narrated by Cardinal Timothy Dolan.
St. Patrick's follows NYS COVID19 health standards.
Tour Hours
9:00 AM to 5:00 PM daily.
Visitors Entrance
https://museumpatron.org/your-tour-starts-here
Mass and Conduct
We ask all of our visitors and guests to conduct themselves appropriately for being in a house of God. This includes dress, language, action and volume. We ask all our visitors to take tours with headphones to not disrupt mass or the faithful. The daily schedule for mass can be found at www.saintpatrickscathedral.org
Available Tour Dates and Times.
If you plan on visiting the cathedral during the holiday season, please consult with the website below for information. www.saintpatrickscathedral.org
Language
The Tour is offered in the following languages:
🇺🇸 English
🇫🇷 French
🇪🇸 Spanish
🇮🇹 Italian
🇧🇷 Portuguese
Our Kids Tour is only available in English.